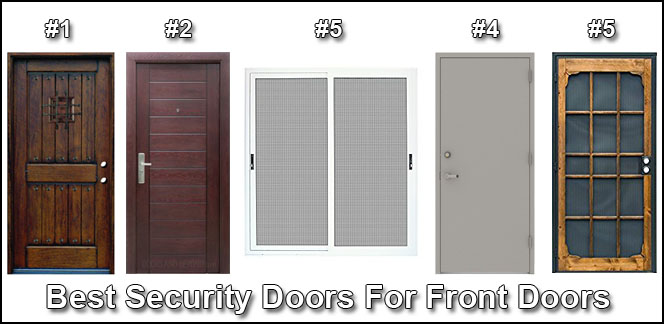 If you are searching "Best Security Doors" for front door or any other phrase similar to that, this post should help! In this post we discuss the best security doors for front doors w/ pictures, description etc.
Security Doors Keep Your Home Safe
There are some home intruders that are really bold. Around 34% of them will enter your home through the front door and once they are inside, they can burglarize the whole place within 10 minutes. When you install a door that has added protection, you are upgrading your home security to deal with this risk, and still have a really pleasing entryway.
High security doors are often a feature that is overlooked. Doors are more than just an accessory, they are the safeguard to your home. You can find new security doors with curb appeal, or just upgrade your current door with the right type of installation skills. We have taken the time to research a variety of security doors to help you to find the best one for your home. Every featured door is made to withstand some pretty severe weather conditions as well as being kick proof.
Below are the 5 best security doors that make your home safe
Read below to find out about the 5 best security doors for front doors:
Rustic Mahogany Type Stained Distressed Solid Wood Speakeasy Prehung Front Security Door 36 in. x 80 in.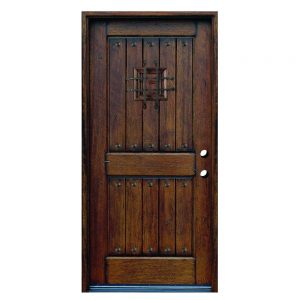 Buy the best security doors from Homedepot
Made out of 100% solid wood with no veneers or fillers
Suitable for front, side, basement, entry and back entrances
Backed by a full 1-year limited manufacturer warranty
This unique mahogany door will give that royal feeling to your home. It is a pre-hung, 2 panel door that does include bronze finished hardware, working speakeasy window with grille, and weather stripping. This door is around $900 and it weighs 160 pounds as well as being almost 2 inches thick. It is a solid door that doesn't include veneer paneling.
Pro: Its easily installed.
Customers love the installation and say that it is high quality is one of the reasons that it is easy to set up. The door will arrive at your home being preassembled with no moldings.
Con: Its darker in person
There are some customers that state the door is a lot darker than what it shows online and that can make the door look a bit imposing.
S100 – Exterior Security Door Red Mahogany (Pre-hung Door Unit)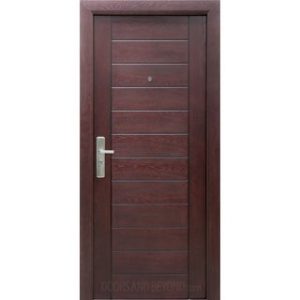 Buy the best security doors from Doors & Beyond
Security: This front security door has a high level of protection from hacking. It comes with reinforcement stiffeners, irremovable crossbars, rigid bends on the sides of the door and a guarantee of the safety of your home. For further security it has 1.5 mm steel plates on the locking area.
This unique exterior door is a modern, yet classy look that comes with several coats of red mahogany paint and paneling. The door has a wood exterior but a steel core, which adds to the security without taking away the beauty. This door is much more expensive being close to around $3,000 but it is also made to handle extreme weather conditions.
Pro: Ultra Secure
Besides the metal plates located on the inside, the S100 has 4 hinges and a multipoint locking system.
Con: Not Customizable
The S100 only comes in 1 size and 2 doors can't be hung side by side to create a double door.
Gray Flush Left-Hand Security Steel Prehung Commercial Door with Welded Frame 36 in. x 80 in.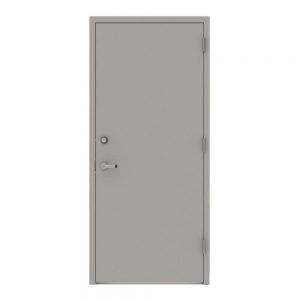 Buy the best security doors from LIF Industries
Constructed of strong steel for the best security
Suitable for exterior and interior spaces for commercial spaces
Environmentally friendly design
This is a door that is made with steel, which is very durable and extremely secure. It also helps to stop the spread of smoke and fire. The price is also pretty cheap for a super strong steel security door for under $500 and that does include the steel frame as well.
Pro: It has excellent quality.
While the description of the door says that it is for commercial use, it is also great to be used for residential homes. Customers have really praised the high quality, commercial grade hardware.
Con: It needs some paint
Although the door has been described as being gray, its actually just bare metal. The manufacturer states that the surface is left that way to make it easy to paint.
Prime-Line Products Woodguard Steel Security Door, Steel & Wood Construction, Non-Handed, Bronze 36 in. x 80 in.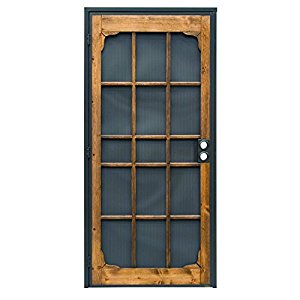 Buy the best security doors from Amazon
This is a hinged security screen door that has a look of a beautifully framed screen door that comes with all of the security of industrial steel door. The frame is made from steel and the door front is made from steel 24-gauge mesh and the outside layer is made with pine. This door starts at $400 and it is the least expensive on the list, which is great because it needs to be paired with a good and solid type of door.
Pro: Ready out of the box
The steel parts are all painted bronze and the pine is a light oak color, so it doesn't need any painting or priming before it is installed.
Con: It is sold without hardware
You will have to purchase your lock and handle set to use with this security door.
Titan White Sliding Patio Security Door with Meshtec Screen 72 in. x 80 in.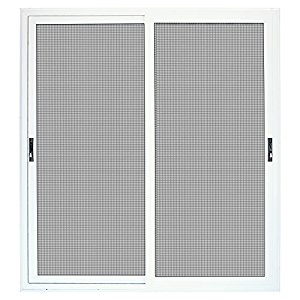 Buy the best security doors from Titan
3-point system for locking in door panels and panel interlock secures your sliding patio door entryway

SURFACE MOUNT door includes self contained sliding track and mounting frame system

Heavy-duty frame made out of aluminum provides strength and never rusts, while protective powder coating delivers a durable and beautiful finish
This is a combined security and screen door. The Meshtec will use a woven stainless steel mesh in a patented system that will keep it secure on the frame. For around $2,000, the screen will not break if it is slammed or cut and its innovated design is best for covering fragile sliding glass doors.
Pro: Multifunctional
The screen material will keep insects out, doesn't require bars or panels, and blocks harmful UV rays, so that you can enjoy the view of outside.
Con: Hard to install
While this door uses common screws that have a 3-point locking system as well as an aluminum door frame, there are complaints of other models that can be a real headache that additional holes had to be drilled to ensure that the right fit was reached.
Needed Features of your High Security Door
These are the main features that you will need to make your door a great type of barrier against any intruder.
Strong dead bolt. A quality dead bolt lock that won't open with the swipe of a credit card or being able to be kicked in. Your dead bolt needs to extend through your door frame into the framing of your home.
No glass near the door knobs. Committed intruders will smash windows to open the door from the inside.
Small pet doors. Some pet doors will be large enough for a human to squeeze into. If you need a large pet door, then make sure that you secure it.
Solid material. Never have security doors that have hollow cores. The strongest door materials will be steel and hardwood. Fiberglass is also nice for the price, but it can crack due to force.
What You Need To Know About Installing Your Security Door
You will need to know if your security door is a slab door or pre-hung. Pre-hung doors will come with the door frame, while the slab doors are just the door. Pre-hung doors are needed if the current door is more than 25 years old because they have a sealed frame.
You may also want to hire a professional installer. You will need to have a lot of precision to ensure that your door will snap into the latches and swing easily on the hinges. If you decide to install a pre-hung door by yourself, then you need to follow step by step instructions.
It doesn't matter if you are installing the security door on your own or you hire a professional, make sure that your lockset and dead bold are reinforced. The dead bolt needs to be grade 1 quality and have a throw bold or latch that is around 1-inch long. The strike plate will need to have 4 screws that go into the door frame.
You can give a great first impression to your visitors and a huge warning sign to any of those potential intruders, with a high security front door. You will be able to easily and quickly upgrade your home when you add a door that has extra security features.
Install The Best Security Doors On Your Home In Arizona
JLC Enterprises offers professional custom security door installation in all major cities of the Phoenix, Arizona valley including: Phoenix, Gilbert, Tempe, Mesa, Chandler, Apache Junction, Paradise Valley and more. You can choose any style of security door you would like and we can custom make it just for your home.