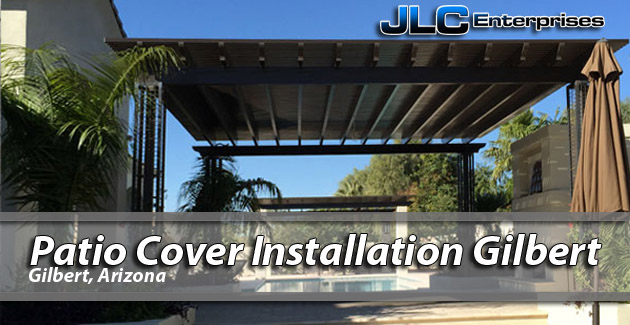 If you searching for "Patio Covers Gilbert" while looking for contractors in Phoenix, Arizona to install a new patio cover for your home, JLC Enterprises can help!
When it comes to installing home patio covers for Gilbert, Arizona, JLC Enterprises is at the top of the list!

We had JLC Enterprises come out and attach a Ramada to the back of our house. Tim and his crew were nice and courteous, they showed up on time and worked until the project was completed. The cre… Read More
Patio Covers Gilbert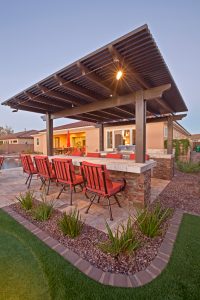 JLC Enterprises is the leading installer and designer of energy efficient and durable patio covers located Gilbert, Arizona.
We happen to provide patio enclosures, carports, Aluma-wood patio covers, lattice patio covers, wood patio covers and much more in Gilbert and the surrounding areas of Glendale, Tempe, Mesa, and Phoenix, Arizona.
Our years of professional experience and service valley wide, each project that is done is guaranteed from beginning to end.
Types Of Patio Covers We Install: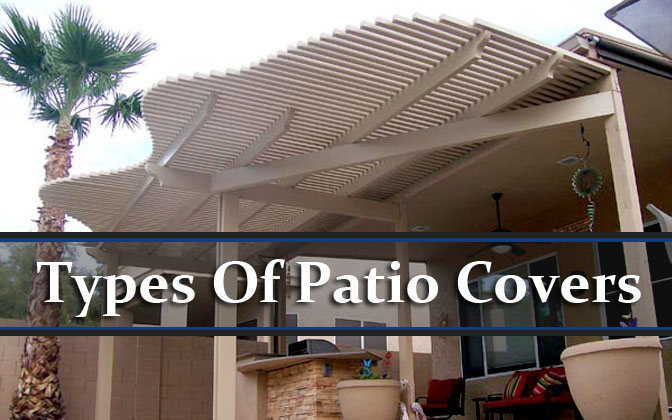 There are many different types of patio covers we can install in Gilbert, Arizona including:
Metal Patio Covers
Metal Patio covers are the most durable and low maintenance type of patio cover available. Metal patio covers are easy to install and can be custom made in different sizes, shapes, and colors…
Read More About Metal Patio Covers
Alumawood Patio Covers
Alumawood patio covers are made from a material that is meant to look like wood but is actually made out of metal. These patio covers are perfect for homeowners who want the look of woo…
Read More About Alumawood Patio Covers
Wood Patio Covers
Even though wood patio covers will cost more maintenance, they are still a good choice for a lot of homeowners, especially homeowners whose home is built from wood material. For exa…
Read More About Wood Patio Covers
Lattice Patio Covers
Lattice patio covers are usually made from wood materials and are the most popular type of patio cover design for outdoor structures. The beauty of lattice work is one of the best ways to deco…
Read More About Lattice Patio Covers
Vinyl Patio Covers
Vinyl patio covers are another alternative to wood patio covers as they look like wood but are actually made out of plastic. Vinyl is perfect for outdoor structures because it is easy to clean, ha…
Read More About Vinyl Patio Covers
Aluminum Patio Covers
Aluminum patio covers are the most popular type of metal patio cover. Aluminum Patio covers are the most durable and low maintenance type of patio cover available. Aluminum patio covers…
Read More About Aluminum Patio Covers
Pictures Of Patio Cover Installations In Gilbert, Arizona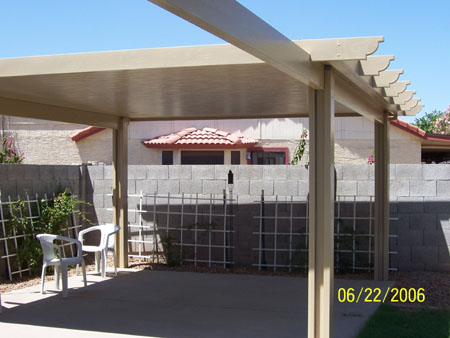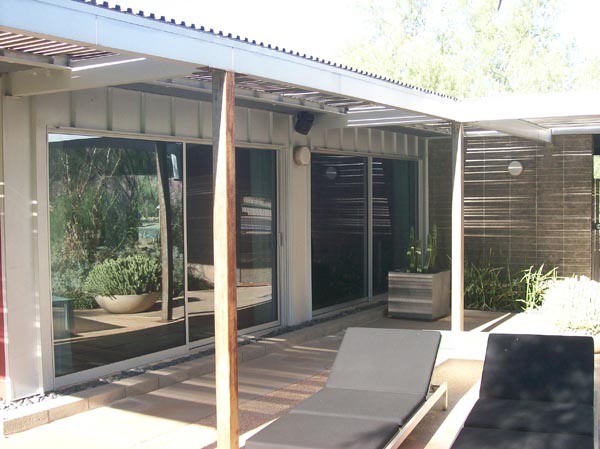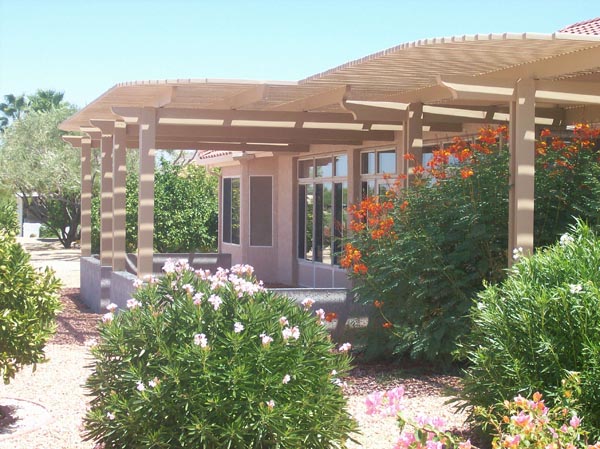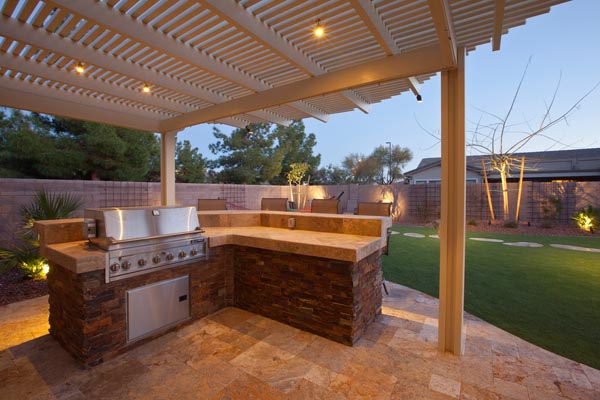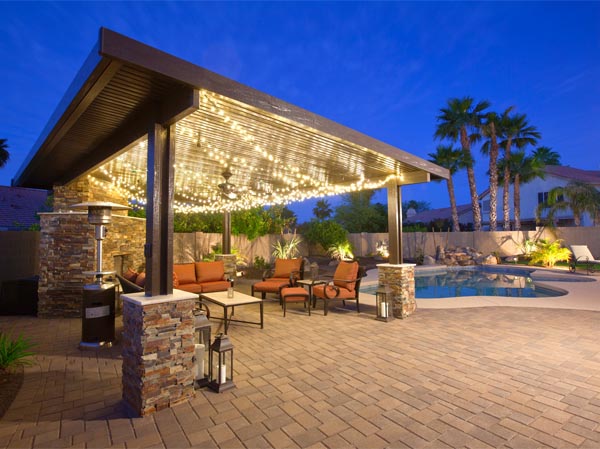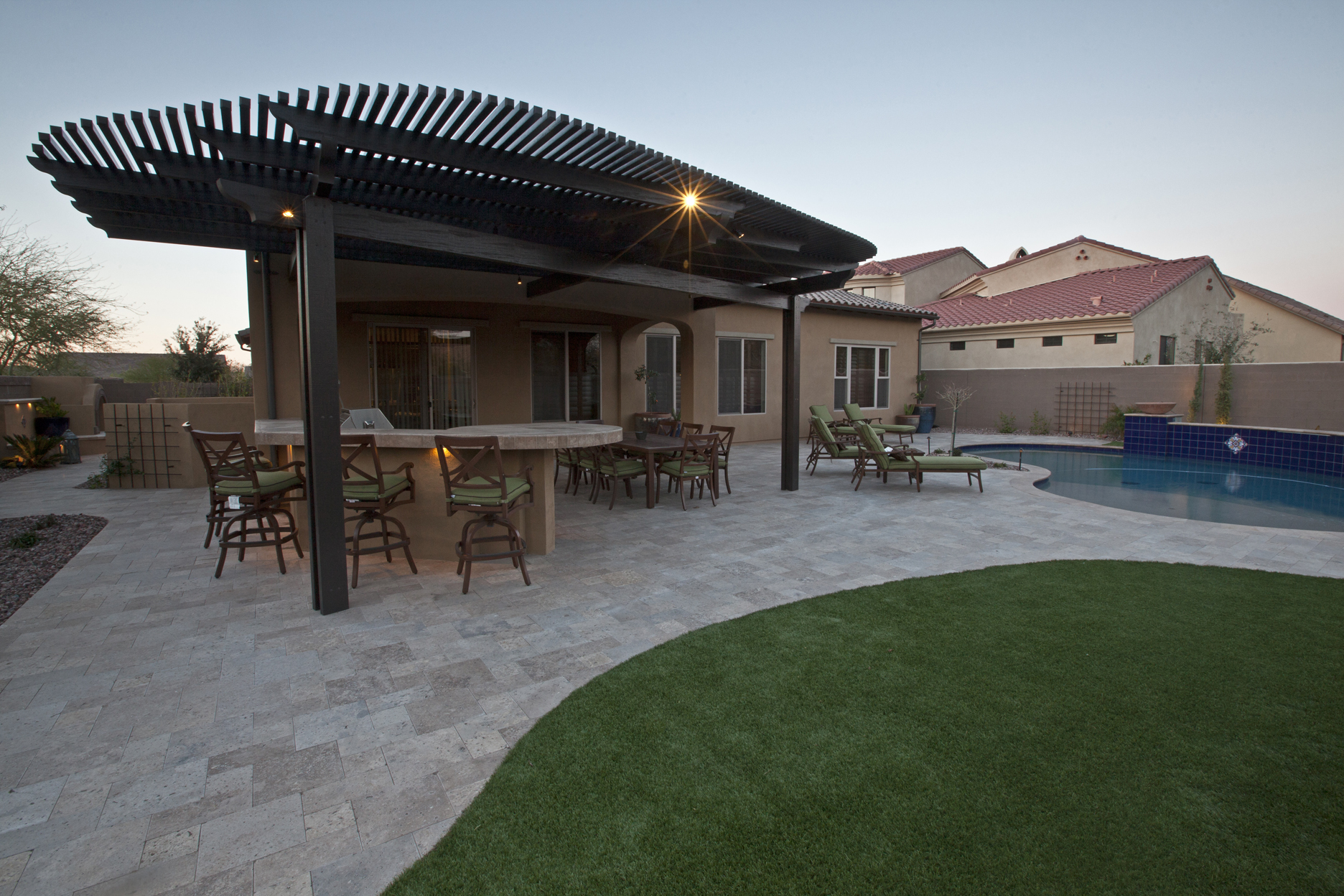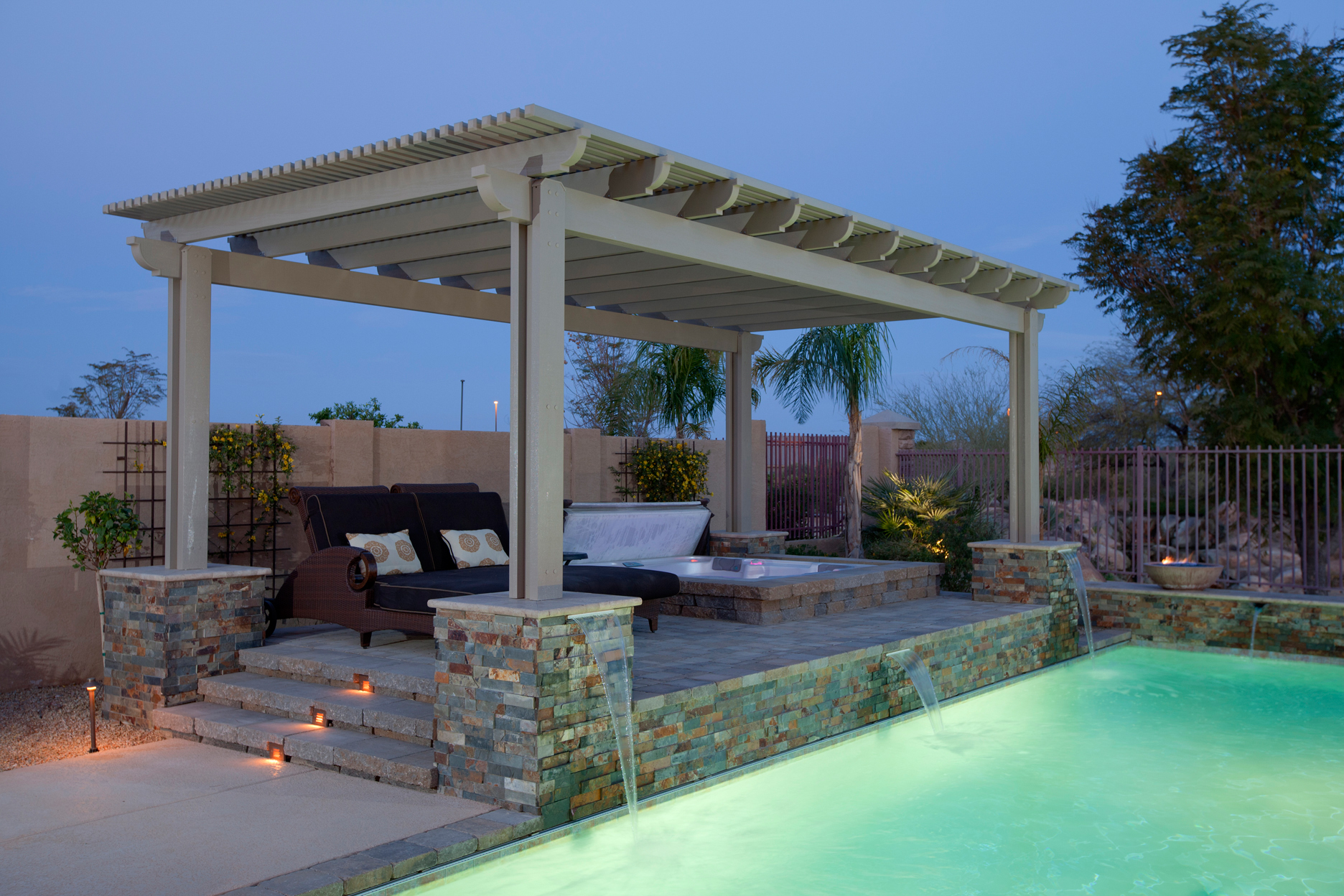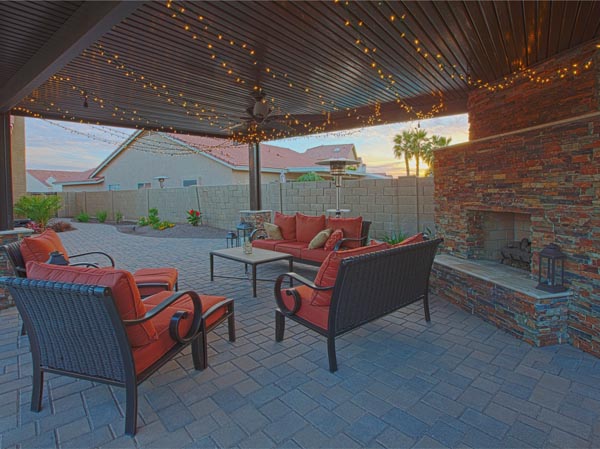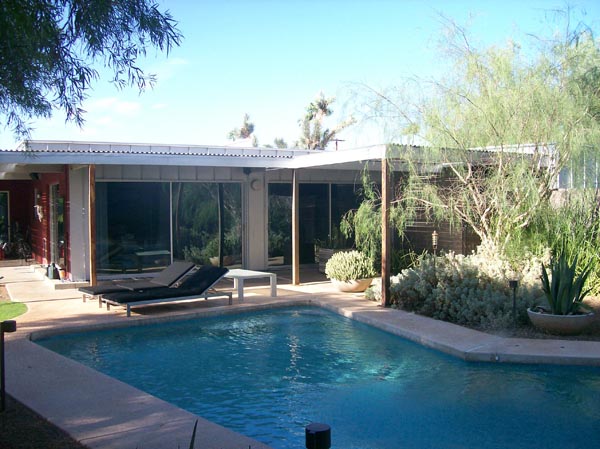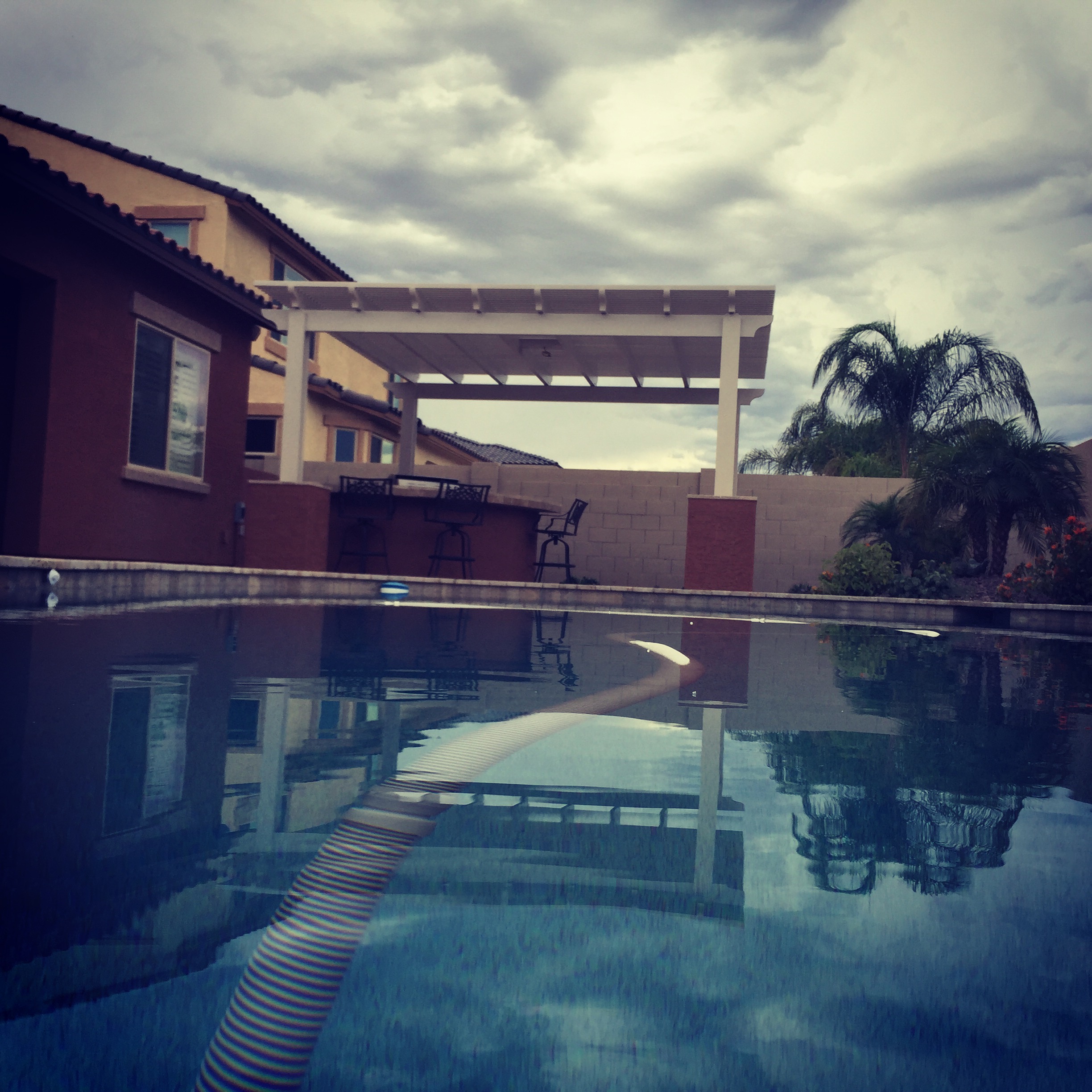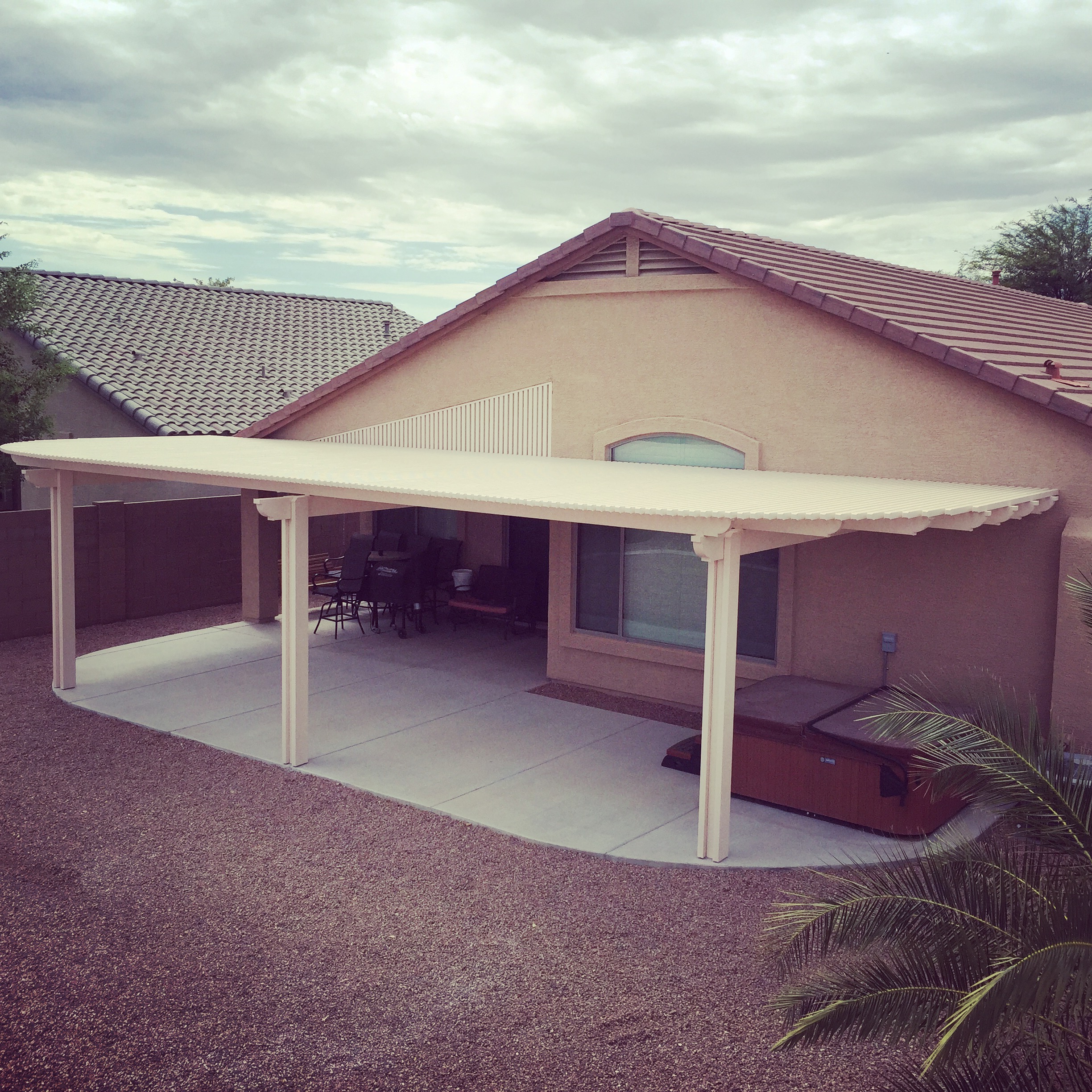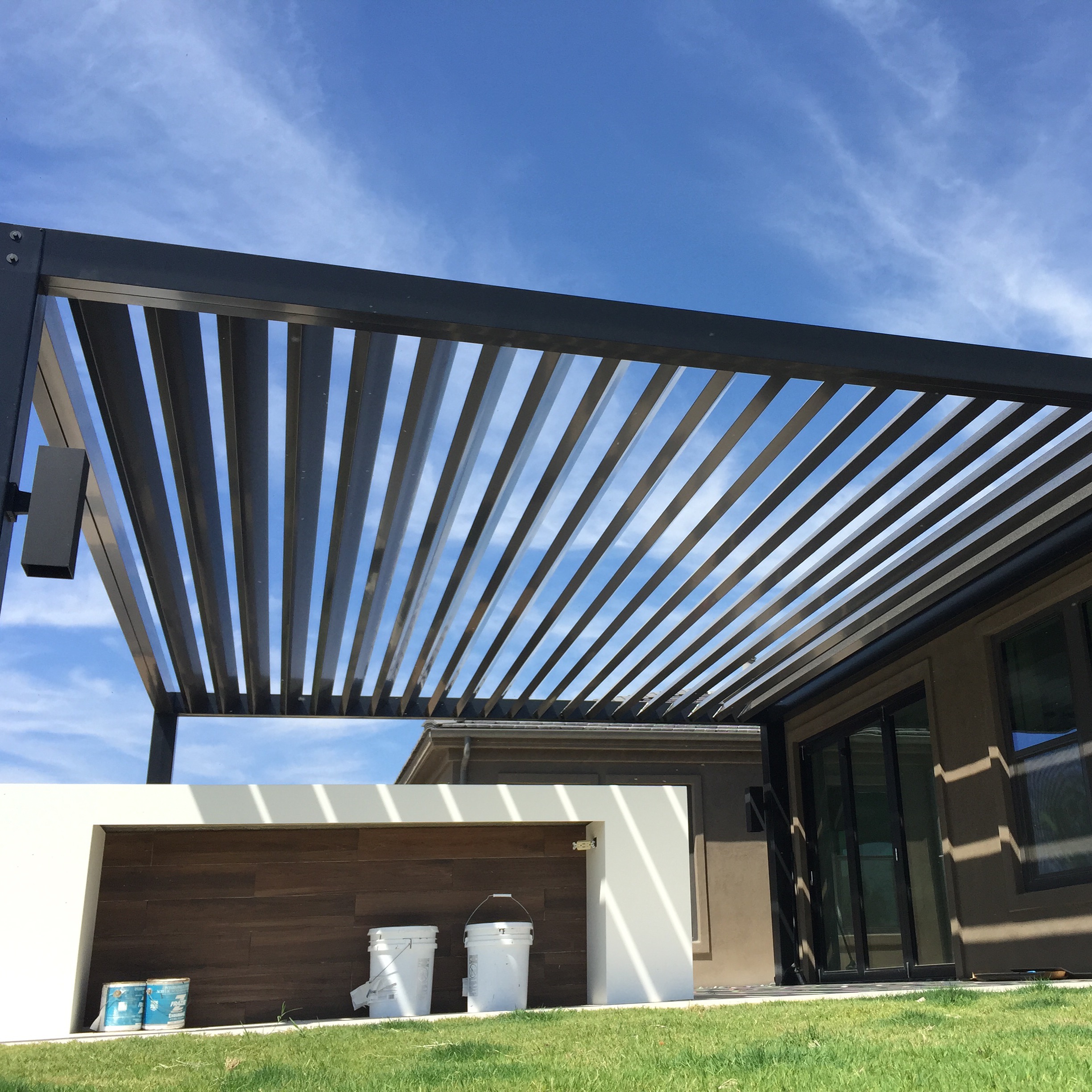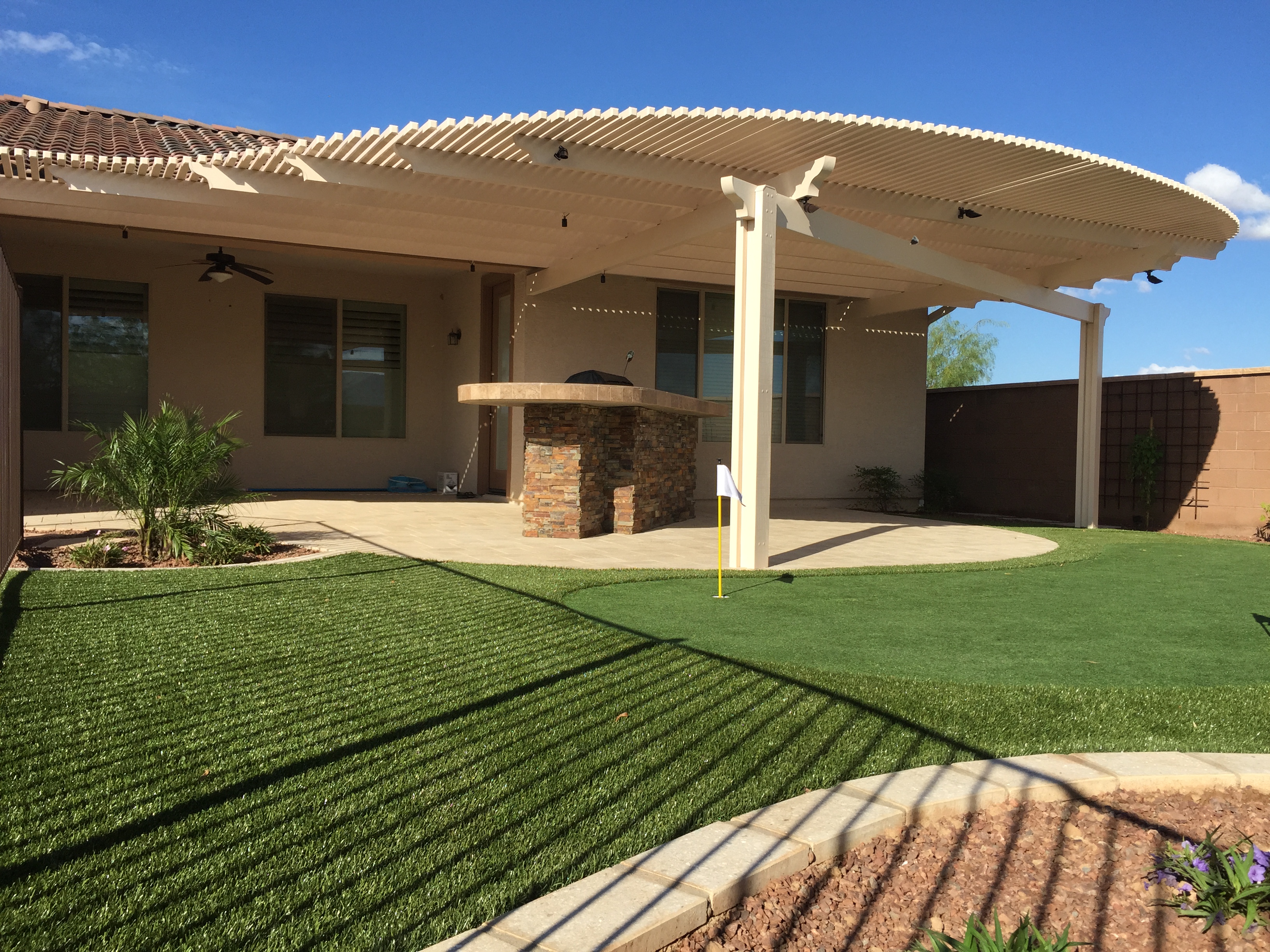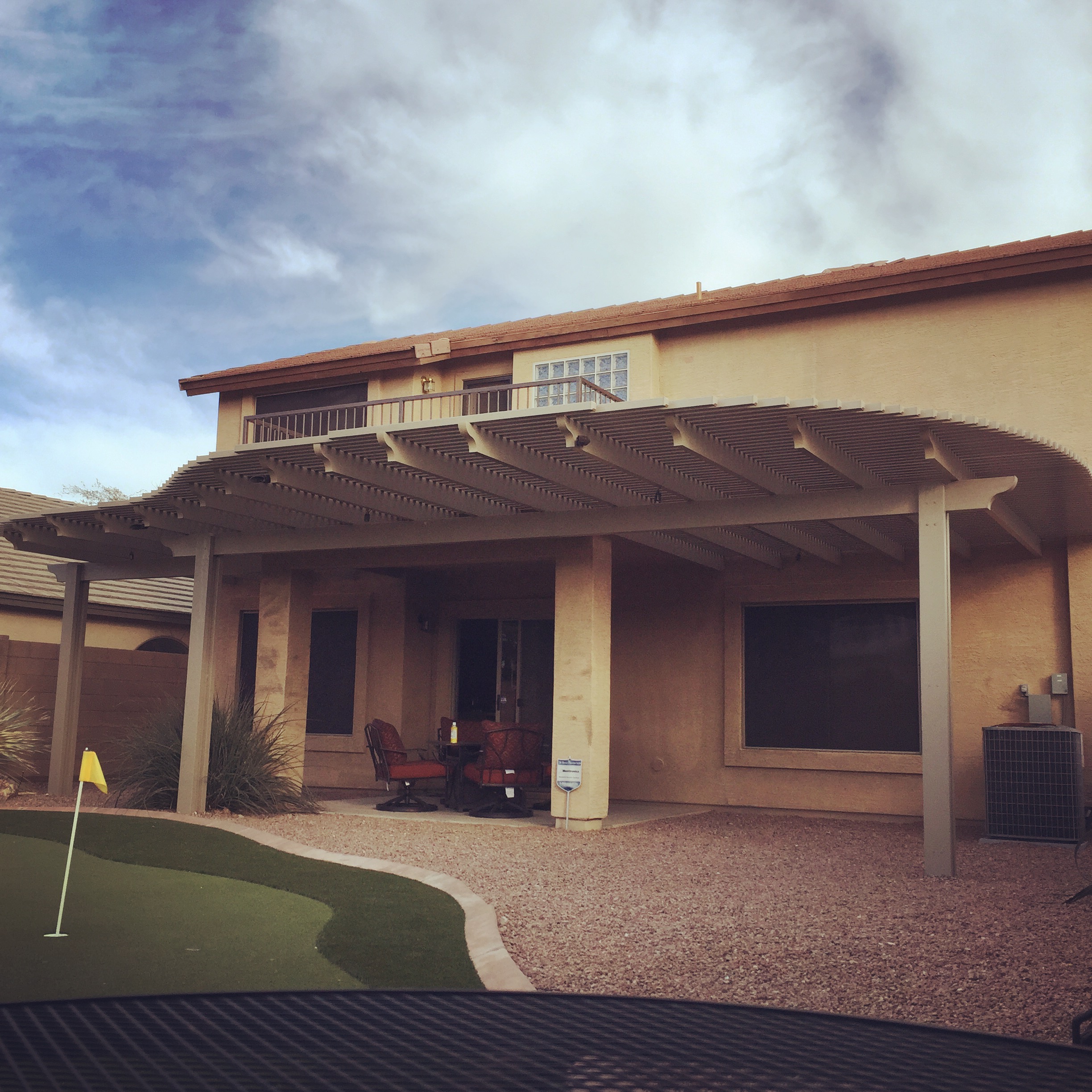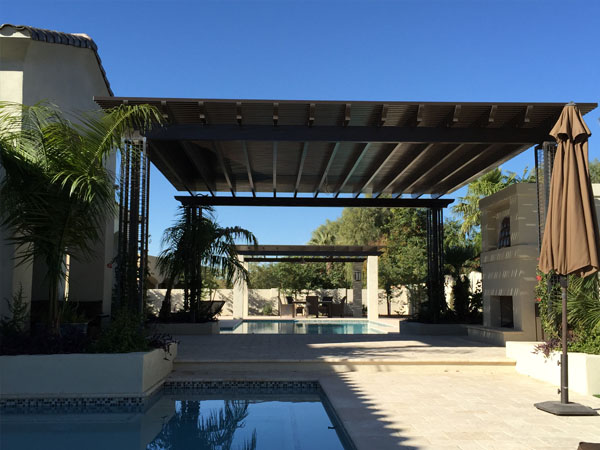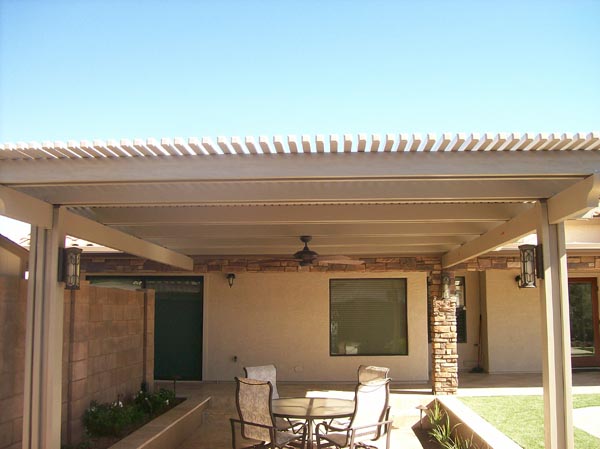 Our Patio Cover Services Are Available In The Following Arizona Cities
We offer patio covers as well as remodeling services in Sun Lakes, Ahwatukee, Fountain Hills, Paradise Valley, Queen Creek, Phoenix, Mesa, Chandler, Tempe, and Scottsdale, Arizona.
Why Install A Patio Cover In Your Backyard?
Installing patio covers in your yard can help to expand your home into the outdoors, by adding additional square footage to the backside of your home. Patio covers will help to set the mood for any outdoor activities such as cooking and dining outdoors, socializing, and relaxing. You can even decorate your patio cover to give it a theme when you are planning a get together. There are some fast food places and diners that use restaurant patio covers too.
Getting More Out Of Your Outdoor Living Space
We are offering traditional solid wood patio roofs as well as the budget friendly aluma-wood patio covers.
Provides 100% rain and shade coverage: The Aluma-wood patio covers are rain proof as well as maintenance free and durable. They come in various prefinished colors and we can match just about any color that your home is. This helps to give you day's outdoors while it is raining, while you manage to stay dry under the patio cover.
Custom patio designs: JLC Enterprises will be able to custom design your cover to accommodate ceiling fans, light fixtures, and so much more which gives your outdoor space more amenities.
Patio Cover Introduction
What is a patio cover? Patio covers are a shady structure for the backyard that is normally attached to back of your home.
You will be able to find patio covers in various sizes, styles and shapes. There are also various types of materials that your patio cover can be made from with a range of prices depending on the material that you select.
Other types of patio covers include: Pergolas, carports, gazebos, awnings, and retractable patio covers.
Schedule Your Patio Cover Installation In Gilbert Arizona
To schedule your installation or to receive a free patio cover installation estimate in Gilbert, call us today at 4809679183. Read More About Patio Covers Phoenix.
Summary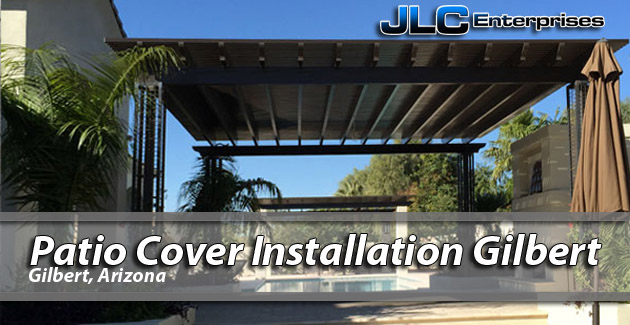 Service Type
Provider Name
JLC Enterprises Inc
,
1230 North Hobson Street #108
,
Gilbert
,
Arizona
-
85233
,
Telephone No.(480) 967-9183
Area
Description
Are you searching for "Patio Covers Gilbert" while looking for contractors in Arizona to install a new patio cover for your home? If so, JLC Enterprises can help!