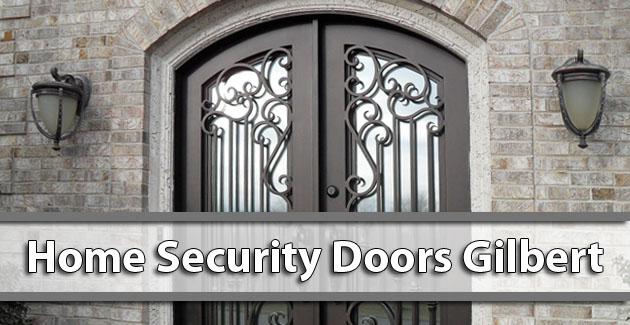 Are you searching for "Home Security Doors Gilbert" while looking for security door installers in the Gilbert, Arizona area? JLC Enterprises Can Help! We are the best home security door contractor and installation contractor in Gilbert, AZ.
Our sales team is very knowledgeable about our products and are known for taking accurate measurements the first time and completing projects on time. Your home's security is very important to us.
Jump To Section:
Choosing The Right Security Door

Choosing the right security door for your home can be tough but with JLC Enterprises, we are your first line of security. We are Gilbert's premier custom derringer & manufacturer of security iron entry doors, steel security screen doors, and steel home security doors.
Home Security Door Installation Services

On top of our home security door installation services, we also provide metal gate installation, window guards, steel entry way enclosures and sun screens. Our skilled security door installers have been providing manufacturing and installation of steel security doors for over 30 years. We offer a variety of full custom to semi-custom security door and metal gate installations.
Affordable Door Installation

We provide the finest selection of home security doors. We can customize our doors to suit your individual needs. Every door is measured and manufactured to fit your home's entry way perfectly, is fabricated with 16 gauge heavy steel, and mounted in solid steel frames for lifetime lasting durability. We offer affordably prices security doors and this includes over-sized doors with no extra cost to the homeowner. We also offer competitive pricing! Have another contractor giving your a quote? We will match or beat their price guaranteed.
Our Service Area

We provide security door and security screen door services to Gilbert, Phoenix, Sun Lakes, Fountain Hills, Ahwatukee, Paradise Valley, Queen Creek, Mesa, Tempe, Chandler, and more.
Why Choose JLC Enterprises

We never use subcontractors for any of our work
All of our security doors and manufactured and installed by JLC Enterprises
One stop shop for all your security door and security screen door needs
We hold all require insurances, licenses, and workman's comp to keep you safe and protected
We offer competitive pricing and are willing to match or beat the competitions price
Security Screen Door FAQ's

What is the best metal for security doors?
The best type of metal for home security doors is steel, aluminum, or metal alloy. Although, the toughest security doors are made out of genuine steel.
Can security doors protect my family from pests?
Yes, your home security doors can seal out scorpions, insects and other unwanted pests by applying a simple foam application around and under the door.
What type of installation do I need?
Flush mounting is the best way to installation security doors because it creates the best seal because it doesn't leave any gaps around the door's opening.
Other Security Door Features

Mitered Door Corners: Metered door corners are used to make the bottom and top of the door stronger. Other contractors will try to use hollow corners but this method allows rust and water to penetrate the door. Rust is the quickest way to wear out your door fast.
Pneumatic Door Closers: Makes is so your door wont slam shut and closes softly.
Wind Stop Chains: A Wind stop chain will prevent the door blowing fully open due to strong winds passing through.
Dual keys: Ask JLC to make it so both of your keys work for both key holes.
Matching Keys: Ask us about rekeying your security screen door to match your home entry door's keyhole. That way you never need 2 keys again.
Home Security Door Photos

Get A Quote From Our Contractors

Relationship: Client
Project Date: November 2013
Project Price: $1,000 – $9,999
Testimonial: "Tim Dolan of JLC Enterprises built us a 16'wx13'hx45'L RV cover in our back yard, steal construction wrapped in AlumaWood. It is attractive, durable and was done professionally and in a timely manner. It fits our yard so well and is so eye catching we have had numerous people knock on our door asking who built it for us.
Tim was very detail oriented on his work, listened to what we wanted and his crew was professional and polite. We hired JLC for a second smaller job later and were happy with the results. I highly recommend this company!" Review On Houzz
To get a free quote from our security door contractors, give us a call today at 4809679183.